Monuments:  a statue, building, or other structure erected to commemorate a notable person or event.
Some of these monuments are famous, some are not:
In Baker, California there is an impressive monument that stands 134 feet tall.  This monument is considered to be the world's tallest thermometer and it commemorates the weather record of 134 degrees that was recorded in Death Valley on July 10, 1913.
In Rose Hill, Iowa the world's largest frying pan can be found.  The frying pan is 15 feet wide, weighs two tons, can hold 200 gallons of oil, and fry 365 chickens at a time, quite impressive, unless you're a chicken.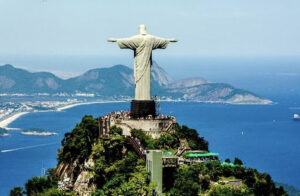 In Rio de Janeiro the monument known as Christ the Redeemer stands 98 feet tall on a summit of 2,310 feet. Making the monument visible from anywhere in Rio.  The statue has become a global symbol of Christianity that attracts millions of people each year to the top of Mount Corcovado.
All of these "monuments" are set in place as a memorial of an event or a person.  Though I'm not quite sure what the largest frying pan is meant to symbolize.  But the point is these monuments, cause us to pause, to look upon the memorial and to think of someone or something.
Monuments can either make us laugh or cry, depending on what they are there to memorialize.  They can take us back to a fond memory or a sad time of reflection, but again they capture our attention, at least for a moment.
Bakersfield Memorial
Right to Life of Kern County typically displays over 2500 crosses at a local church for one week in January. This year the display was to be from January 14th through January 22nd. Unfortunately, due to the severe weather we will be experiencing during that time we are unable to display our crosses in January.
But I want us to remember that even though we don't see them, the crosses are still very significant to the Pro-Life movement.
These crosses will never make it in the Guinness book of World Records, they will be forgotten shortly after they are taken down, until it's time to put them up again (and they will be put up again at a later date).
Each cross represents a pre-born child who lost their life to abortion.
Every day in the United State over 2,500 babies lose their life to abortion.  2,500 families impacted by that one single act.
We do not want these children forgotten.  We display the crosses as a memorial to all of them.  Our hope is that people will understand that abortion impacts everyone either directly or indirectly and that over 910,000 babies are aborted each year in our country.  These are children of our family, friends, and community.
Why crosses:
So, we will not forget
So, we will be impassioned to tack action
As for the single large cross.  That cross represents Jesus and the hope and healing that can be found in Him.
What can you do even though the display is postponed:
You can pray for the families whose lives have been impacted by abortion
You can still support Sanctity of Life Sunday through your local church (contact me for ideas)
You can pray and keep your calendar open for our next display in June when we will celebrate the one year anniversary of the overturning of Roe v. Wade (details to be shared later)
Abortion always ends in death and these crosses are a memorial to remind us of the work still to be done.
Contact our office 661-864-7508 to find out how you can volunteer.